The Buckhorne Country Store and Campground
12:00PM TILL 9:00PM - AUTUMN HOURS
OPEN YEAR ROUND
Amber Suzanne Dean (left) operates the Amber Suzanne Salon at The Buckhorne Country Store. She won the Virginia State Championship in culinary arts her junior year at Alleghany High School and competed nationally in Kansas City, Missouri.

Jana Allen (center, google "Jana Allen actress") has been in dozens of movies including The Shunning and The Bleeding. She had the starring female role in "Remember Yesterday". Google Remember Yesterday the Movie.
Anmarie Rosalea Herald, a former flight attendant for Piedmont Airlines, now serves as campground manager.
M. Ray and his daughters L-R (Amber, Jana and Anmarie) visit with some campers.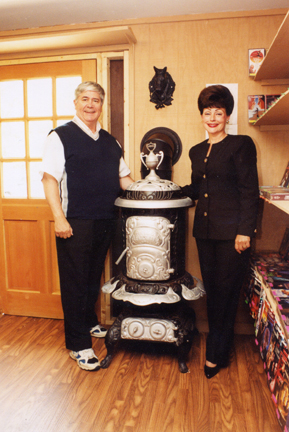 M. Ray turned this gift from Cherie (an antique stove) into a video return that was featured in Hot Sheet, a national video publication based in Owensboro, Kentucky (www.waxworksonline.com) .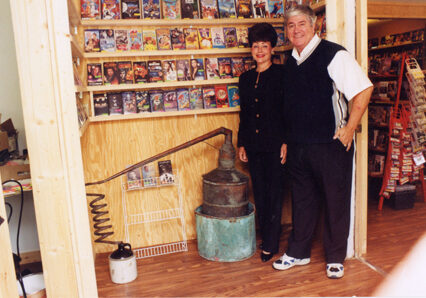 M. Ray and Cherie once owned more than 2,000 movies (VHS and DVDs). The Allen's photo standing beside the moonshine still alongside the movies, Thunder Road and White Lightning, appeared in the Hot Sheet addition as well.
M. Ray Allen, a retired athletic coach and teacher, spent 41 years as an educator in the public schools of Kentucky, Michigan, California, and Virginia. He coached championship basketball teams in Kentucky, California, and Virginia and wrote three books of poems following his debut as a poet at the opening ceremony of the Douglas House Center in Long Beach California, in 1968. He earned his A.B. degree and M.A. degree from Morehead State University in 1963 and 1965 respectively. Also, he received his M.F.A. degree in theatre arts from UCLA in 1980 where he majored in writing for television and motion pictures. He recently served as editor of the Virginian Review for 14 months prior to the merging of the newspaper with the West Virginia Daily News.
Cherie S. Allen received her A.B. degree in music from Shenandoah College, won the title of Miss Virginia in 1968, and performed as a vocalist in the Nixon White House, received a scholarship to attend the Los Angeles Civic Light Opera's Musical Theatre Workshop, toured with the Los Angeles Civic Light Opera's productions of Fiddler on the Roof, Sound of Music, and Gigi (a Broadway production) before retiring to become a mother in 1977.
Jana Cherie Allen is a graduate of Liberty University. Currently, she attends the William Esper Studio in Manhattan, where she is studying drama. Jana has appeared on national television in Why My Child, an episode of Psychic Witness that aired on TLC. Also, she has appeared in a film made by The Pentagon and the U.S. Department of the Navy. Google Jana Allen to view her website concerning her career in films.
Landon Ray Allen, a 2000 graduate of VMI, served 11 years in the U. S. Marine Corps where he flew an F-18 Hornet on two tours of duty to Japan, called in 14 airstrikes against the Taliban in Afghanistan, served as a flight instructor at Whiting Field in Milton, Florida. Currently, he is a pilot for SouthWest Airlines, flying commercial out of Baltimore.